Dr. Mohr Treats a Variety of Conditions That Cause Lower Back Pain in Houston, Cypress & Tomball, TX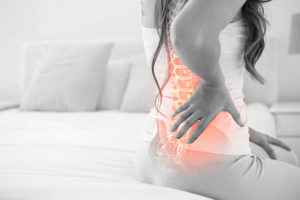 Lower back pain can strike suddenly after a fall, car accident or bout of heavy lifting. More often, though, it develops gradually along with age-related spinal degeneration. Usually, chronic pain in the lumbar spine can be traced to nerve compression caused by an underlying condition related to a damaged disc, inflamed joint, misaligned vertebra or bone spur. In the Houston, Cypress and Tomball, Texas, area, R. Alexander Mohr, MD, of Advanced Orthopaedics & Sports Medicine provides a full range of conservative and surgical treatment options for conditions that cause lower back pain.
Known for being down-to-earth and approachable, Dr. Mohr meets with each patient personally to
go over his or her symptoms and imaging scans. After reaching a diagnosis, Dr. Mohr will develop a treatment plan that is in line with the patient's needs and goals.
Conditions that cause lower back pain
Dr. Mohr regularly treats many conditions that can cause lower back pain, including:
With a goal to help each patient find effective relief through the least invasive approach possible, Dr. Mohr recommends surgery for lower back pain only when he believes it is truly necessary, and only after safer and less expensive nonoperative treatment has failed. Many patients who choose to proceed with spine surgery feel confident in Dr. Mohr, who is skilled and experienced in performing the latest surgical techniques and often incorporates minimally invasive components into open procedures as well. As a spine surgery innovator, he continually develops new techniques and teaches other surgeons how to use them.
Dr. Mohr practices at two locations, one in Houston and the other in Cypress, TX, making it extra convenient for area patients to schedule office visits. If you'd like to discuss your treatment options for lower back pain with Dr. Mohr, contact us to schedule an appointment at one of his offices today.